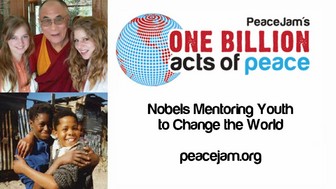 credit: peacejam via plus.google.com
PeaceJam Foundation, a U.S. based nonprofit and global leader in developing young activists and civic engagement, has launched its five-year One Billion Acts of Peace campaign at the Social Innovation Summit at the United Nations in New York.
The campaign, led by thirteen Nobel Peace Laureates, including the Dalai Lama and Archbishop Desmond Tutu, is geared to inspire global citizens to work side-by-side to create one billion high quality projects that confront the most pressing social, environmental and political issues.
Read the Entire Article
Federal Programs Related to - Philanthropy, Voluntarism & Grantmaking, General/Other
Private nonprofit organizations whose primary purpose is to promote the practice of charitable giving and volunteering or to represent and serve a wide range of philanthropic and charitable institutions.


Federal Programs Related to - Public, Society Benefit, General/Other
Programs that focus on promoting the effective functioning of government, public administration and public officials and support or provide services required for the effective functioning of society's infrastructure.