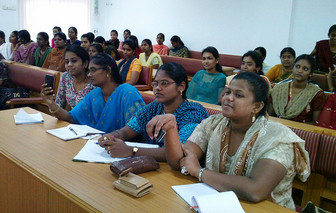 credit: US Consulate Chennai
Rick Cohen, a writer for the Daily Yonder, reports that foundation grants in rural community development corporations (CDCs) are moderately rising since 2006.
Cohen furnishes a Nonprofit Quarterly report that looks at grants to organizations in the rural program of the Local Initiatives Support Corporation (Rural LISC) and the NeighborWorks Rural Initiative. Cohen's findings will be presented at the National Rural Assembly next week in Bethesda, Maryland.
Read the Entire Article
Federal Programs Related to - Community Development, General/Other
Programs that focus broadly on strengthening, unifying and building the economic, cultural, educational and social services of a community or neighborhood and improving the quality of life for all. Community Building; Community Capacity Building; Community Development and Improvement; Community Development Block Grants; Healthy Communities Community Economic Development Programs that provide technical assistance and funds to help communities retain and recycle income within the community by investing in the development of local institutions and businesses. Business Growth; Business Loans; Economic Growth; Economic Transformation; Real Estate Organizations; Socioeconomic Development; Technology Transfer; Transfer of Technology; Urban Enterprise Zones
Federal Programs Related to - Rural Economic Development
Programs that provide technical assistance, venture capital, loans, loan guarantees or other forms of management support to encourage the establishment and growth of business and industry in rural areas. Rural Industries